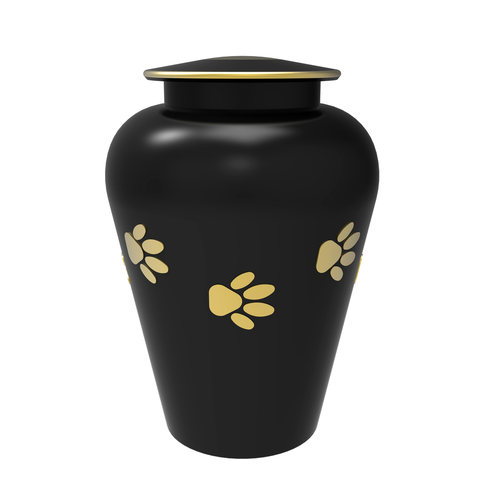 Furever Friends Pet Cremation & Funeral Services offers compassionate, quality pet cremation to help families through this difficult time.
What is Cremation?
Cremation is a process by which the body is reduced to its basic elements using extreme heat within a cremation chamber. All organic matter is consumed by heat or evaporation. The remaining bone fragments are referred to as "cremated remains" or "cremains." These remains are then carefully removed from the cremation chamber for scattering or return to pet parents. At Furever Friends we cremate all small animals (as small as goldfish) and dogs and cats of all sizes.
Pet Cremation Options
Here at Furever Friends we specialize in private cremation. Only your pet is present in the pet cremation chamber during the cremation process. The pet is uniquely identified throughout the whole process. The cremated remains of your pet are the only remains processed and returned. Cost includes:
Local veterinarian pickup
Personalized Paw Print Cremation Certificate
Fur clipping (unless absolutely not possible to retrieve)
Dignified cremation container
Temporary urn
Pet bereavement resources
Return of cremains to local vet, or directly to family
Please contact us to inquire about additional cremation options.
Cremation Pricing
Todays cremation fees are based on the weight of your pet.
Transportation is included within a 10 mile radius from place
of death to the crematory. (additional transportation fees
apply over the 10 miles…1.00 per mile)
Weight Private Cremation Cost
0-5 lbs. $160.00
6-19 lbs. $210.00
20-49 lbs. $250.00
50 – 74 lbs. $285.00
75 – 99 lbs. $310.00
100 – 149 lbs. $330.00
150 – 200 lbs. $375.00
Pet families have a choice whether they would like to bring their pet to us or choose for us to pick the pet up from home or at the veterinarian office. Prices above reflect Private Cremations (individual) usually takes 48 – 72 hours to complete the process. You can assure you are receiving your pet's ashes once returned to you because all cremations which are private are performed individually.
Should you choose communal cremation (where you and your family do not want ashes returned) please call us to discuss this option.